How to write a good Twitter bio + 30 Twitter bio ideas
Having a viral tweet could make you a star. The right number amount of retweets propel your handle onto so many newsfeeds, and having an active Twitter profile is key for any social media marketing strategy. Having a good Twitter bio under your profile picture further helps you rise in rankings. 
With 160 characters available, you can insert hashtags, emojis, jokes, and links to other sites. That's everything a creator needs to help further their brand and do some powerful social networking. If you're not feeling creative, don't worry — we have 30 Twitter bio ideas to inspire you. 
How to edit your
Twitter bio
When you open Twitter, there's a lot of information to sort through. It's intimidating if you don't know where to start. Here's a step-by-step guide to creating your first (or editing your last) bio.
Step 1
Select Profile from the list on the left side of your browser and press the "Edit profile" button under your banner.
Step 2
You can immediately start writing something in the Bio field. The number on the top right corner will help you track where you are within your 160-character limit. If that's a little tight for you, use emoji to express more with less. After all, a picture's worth a thousand words. You can also use hashtags to aid your profile's visibility in searches and advertise what type of content you create.
Step 3
Once you're happy with your new bio, hit the Save button!
Things to put in your bio
Your bio is an ecosystem that includes your profile picture, banner, Twitter handle, and display name. All of those elements come together to tell the whole story of your brand. Here are a few tips on what you can include to ensure you have the best Twitter bio for your project:
Hashtags help your target audience find you, so look around and see what your community and competitors are using. Be sure not to mix them up; if you're a financial blogger who posts lots of fancy infographics, you don't want messages from disappointed followers looking for baby kitten GIFs.
Using SEO strategies will help raise your visibility in searches. You can achieve that by using Google Analytics to see what terms are trending. It takes a light touch — people are pretty sensitive to spammy copy. But it takes trial and error to determine the right balance, so take some risks. Remember: they have to find you before they unfollow you.
Twitter is great; the selfies and memes are hilarious, but it'll only get you so far when creating a business. If you're building your brand, you'll want a website, LinkedIn, Instagram, and maybe Snapchat. Twitter bios allow more links than an Instagram bio, but you only have so much space. You need one link to take your followers everywhere. Linktree will help you combine your entire web presence into one cohesive space.
30
Twitter bio
examples
You know the steps: Now, you just need the confidence. See our list below (which includes some familiar faces), and you'll see that it's not that hard:
Comedians
Many Comedians launched their careers, in part, through their savvy use of Twitter, and Twitter definitely wouldn't have dominated popular culture without them. Here are some examples of Comedians using Twitter to promote themselves:
1
Patton Oswalt starts his bio off strong with an up-to-date list of everywhere we can expect to see him in 2022. After this long list of bolded upcoming credits, he places a little, "I like making stuff." A humblebrag? Maybe. We forgive him, though.
2
We can't help but like Lauren Lapkus, and this bio plays on that. Maybe parasocial relationships aren't good for us, but we might as well indulge and laugh a little in the grand scheme of things.
3
There's nothing like a bio that can get and keep your attention. "Infrequent spell checker?" Is something misspelled? That second guess is a great gag. 
4
Comedian Josh Berry moonlights as himself; usually, he's playing Prime Minister Boris Johnson's PA, Rafe Hubris. We know that because "Not myself" caught our attention and demanded an investigation.
5
"Fragrance aficionado" is the most impressive boast on this bio. It's also impossible to prove without buying a ticket and seeing him live.
6
Andy Kindler obviously had Alannah Brittany proofread this. But nothing's funnier than purposefully misspelling something. 
Drag performers:
Drag performers are like comedians. Plenty of them are. But their role within the LGBTQIA2S+ community means many address their identity within their Twitter bios, but not necessarily. After all, Drag's all about challenging expectations.
7
Montreal's Pythia sums up her whole brand is expressed in emojis: she's a clown (and thus, spooky) with a big heart, she's Canadian, and should have won the crown on Canada's Drag Race.
8
Jackie Cox was notable in RuPaul's Drag Race season 12 for representing almost everyone as a gay Iranian-Canadian from Halifax living in NYC. She uses flag emoji to celebrate her story.
9
Also from Season 12 of RPDR, Rock M. Sakura's bio promises a rollercoaster of a show: going up and deathdropping down.
10
Bob, the Drag Queen, is famous for being very funny and being unapologetic. She uses her bio to advocate for herself, and queer and black life.
11
Jinkx Monsoon also uses her bio to clarify her pronouns. She also confirms that her Drag persona is more than human.
12
Call Me Mother winner, Toddy from Vancouver, BC, has a lot of accolades. They'll get to that. They want us to know they can write a funny Twitter bio first — even if we aren't sure what that means.
Musicians
Twitter is where many people learn that musicians are people, too. When a musician uses Twitter well, they can promote new content and drive ticket sales while giving a deeper insight into their artistry and self. Here are some great Twitter bios that play with the mystique of these larger-than-life figures.
13
First, in the chorus from "Empire State of Mind," and now with the three Statue of Liberty emoji gracing her Twitter bio, Alicia Keys celebrates New York whenever she gets the chance. 
14
This parenthetical in this bio says everything: Zene's music is confessional and intimate. The parentheses create intimacy, which is exactly what you want from and Neosoul chanteuse.
15
Many scholars talk about lightning being a message from the gods; it's either an ominous warning or a sign that FLEX has dropped.
16
Allie X manages to do two things with her Twitter bio: tell her followers that there will be consequences for not streaming her music and get ahead of her stylist's big decision with a clever joke.
17
This is a perfect quote for a Twitter bio. They don't have to say anything; the Guardian did it for them.
18
Gorillaz is the band that isn't actually a band. And to let us know their next album is coming out, this Twitter bio says they're back together again.
Comics:
Twitter is home to all sorts of creators. The artists of the comics community, in particular, use Twitter to grow their following, showcase work, and network with other dedicated artists. Here are some great bios that celebrate this creative scene:
19
Depression isn't unfamiliar in many artist communities, but comics especially have helped people find a language for expressing the feelings associated with it. By claiming his depression along with his creativity, Jay Stephens is participating in an empowering tradition in comics.
20
Sometimes you say all that you need to say.
21
Since comics aren't traditionally an auditory medium, many of Dave Scheidt's fans wouldn't know how to say his name. Here, the artist can finally put the question to bed. Plus, he previews some of his interests and what followers can expect.
22
Sometimes being a little self-deprecating can disarm people. They may be a wretch, but the glitter emoji in the display name suggest they're OK with that.
23
This is another creator using their platform to advocate for what they believe in. By repping his union, Sam Wallman lets his followers know that he has integrity and that he'll promote and depend on his fellow artists.
24
A lot goes into who we are. The many facets in this bio not only tell potential followers what may inspire the webcomics but also gives an impression of their vibe.
Podcasts:
Because podcasts are auditory, it can take time to associate with the hosts. Twitter is a great way to put names and voices to faces and give an insight into what goes into recording your favorite episode. Here are some great podcast bios that may make you excited to check our RSS feed:
25
People need to remember that rhythm is everywhere. "One-stop shop" is a cliche because it works. Adding in the rhyme with "pop" is so appropriate, because that's exactly what it does — it comes alive in your mouth as you say it to yourself.
26

This bio fits the bill perfectly for a sports podcast. Even the call out to our mom is appreciated, even though it's inaccurate. (My Mom's a Raptors fan.)
27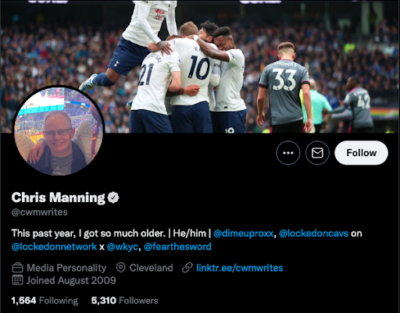 This account isn't a podcast, but the host from the previous example. This demonstratesdemonstrate how using links in your bio can help direct your followers to and from your different Twitter accounts.
28
The best podcasts work because they seem like a slice of someone's life. The host's have been rolling all their life, and they'll continue to roll whether you're listening or not, so you'd better tune in before they roll on without you.
29
What makes a podcast compelling isn't what they're doing but the personalities involved. If you're curious about what @horrorcowtiger is going to say to @csbseamonkey about this week's movie, you must subscribe.
30
On the way to finding out what the podcasts are about, this bio perfectly summarizes who the hosts are and their vibe.
Twitter ideas you can copy
If you feel conflicted about taking ideas from those real-world Twitter users, don't stress. We've also come up with 30 templates for clever Twitter bios. Adapt them however you want. Who knows, they may inspire you to come up with something better than anything you'll see below:
6
Funny Twitter bio
ideas:
Use juxtaposition

: When adulting and laziness become one.

Use hyperbole

: I'm a papercut

survivor.

Use food

: No pastrami zone.

Use empathy

: You have the right to be very, very tired.

Use parody

: Maybe they're caught in a trap of their own making; maybe it's Maybelline.

Use yourself

: My mom says I'm miserable.
6 Cool Twitter bio ideas:
Show your personality:

A smile is nice, but new emoji can tell people how you smile.

Show where you're from

: Flag emoji can celebrate your origins or your new home.

Show your sign

: Zodiac symbols proclaim your vibe faster than anything you can write.

Show your hobbies

: If you dance (dance emoji), jam (note emoji), or do heart surgery (anatomical heart emoji), you can connect with your followers.

Show your tastes

: Whatever is your favorite food, there's a food emoji for it.

Show your dreams

: Use emoji to paint a picture of where you want to be.
6 Aesthetic Twitter bio ideas:
Use fonts for emphasis

: [Your name in sans-serif] [Your title in cursive]

Use capitalization for emphasis

: emPHAsis

Use capitalization for depth

: UNTIL Until until un u

Use emojis for symmetry
Use linebreaks for clarity

:




[Your name]




[Your credits]

Use a spellchecker

: I am a comedian.
6 Quotes for Twitter ideas:
Rose is a rose is a rose is a

rose

–

Gertrude Stein

When I discover who I am, I'll be free –

Ralph Ellison

When I am eighty, you will see real progress

–

Hokusai

I live in a queendom, ruled by a womb-iverse –

Erykah Badu

What a fool believes, he sees

–

Michael McDonald

Nothing endures but change

–

Heraclitus
6 Professional
Twitter bio
ideas:
State your skills
Name your title 
List your credits
Reflect your audience
Include your location
Include a link in bio
Bring your best
Twitter bio
ideas
to the world and back
You have something to show the world. Whether you're just starting or looking to level up your public relations, using the right tools can make the process so much easier. You can register for a free account with Linktree right now and begin the next phase of your social media journey.