TikTok is an international smash, earning more than $500 million in revenue this year, with 1 billion monthly active users since January 2022. If you're not considering how to incorporate TikTok videos into your social media strategy, you're missing a big opportunity.
Learning how to use TikTok is fun, and sponsored influencers can earn $500-$1,000 for posts. To be eligible, you'll need 100,000 followers, meaning you may have to pivot and adapt while figuring out what you and your audience want from your brand. After all, you need to know what the trends are in order to keep trending. That's why writing a stellar TikTok bio is so helpful, and knowing how to change your bio on TikTok is imperative.
(Spoiler alert: Thankfully, it's easy.)
Where is your bio on TikTok
taking you?
Whether you're starting a TikTok business account for commercial use or just want to do funny dances, a good TikTok bio will help you connect with other TikTok users who are looking for content like yours. It's also the very first thing people see on your profile page, so you want it to have your most up-to-date information and links that will take your followers where they need to go. A link in bio tool like Linktree will connect all your social media platforms, making it easy to grow your fan base across the board.
How to edit your TikTok bio
When you decide it's time to edit your TikTok profile, doing so is easy. Do as you usually do and open TikTok with your Android or iOS smartphone. Your journey to a better bio starts here:
Step 1
You can navigate to your profile by tapping the silhouette icon in the bottom right corner of the screen. Here's also where you can reset your profile photo, toggle your watch history's visibility, and generally manage accounts.
Step 2
Tap the Edit profile button under your profile icon.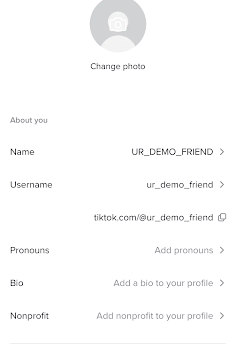 Step 3
After you tap Edit Profile, select the Bio field and start writing. You have 80 characters to make your mark, so be sure to make them count.
Step 4
All that's left is to tap Save, and then you're done.
W
hat to put in your TikTok bio
Now that you have an active TikTok account, we have some additional tips to give you an edge. Think of it as a learning opportunity: You'll be editing your profile many times as your personal account becomes your personal TikTok empire. Here's what to keep in mind whenever you edit TikTok profiles:
Know your brand and purpose
When creating a business account, it's important to remember why you're using the app. Creating a solid content strategy and making sure it supports your mission is key. Think of everything you post as being a potential call to action (CTA) from you to your followers. Stay accountable and ensure that whatever goes into your bio is helping potential clients know who you are and why they need or want your help. 
Be concise
Did we say you only have 80 characters? Yep, we sure did. For better or worse, you only have 80 characters to make your mark. If you've managed other social media accounts, you know this game, even if the numbers have slightly changed. So keep it short and sweet, but make sure it's also savory and memorable. If you know your brand, you'll know better than anyone the fastest and most impressionable way to describe all that you have to offer. Luckily, you can throw in an emoji or two to be concise and expressive. 
Add a link with Linktree
When you tapped Edit Profile, you may have noticed a Website field among the other options. You can copy-paste your website's link here. But you can choose only one. 
Using Linktree, you can create one clickable link for a page that can branch to your YouTube channel, Instagram bio, website's landing page, and more. Sign up for free and create a cohesive launching pad for your brand.